I have developed a love of Ducks over the years. Not duck ducks but Rubber ducks. I don't know why but I think they are really cute. But I currently really love Pokemon.
Now if you live in the real world then you will know that playing pokemon is classed as cool. I played pokemon before it was cool and I'm still called a Nerd and a Freak just about everyday. What's up with that. I'm not exactly happy with how that works to be honest.... I did a quiz to see what pokemon I would be about 3 years ago and I did it again. I am: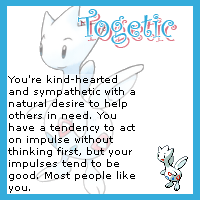 My Pokemon Personality
National Number: 176
Species: Normal, Flying
Height: 20" (61 cm)
Weight: 7.1 lbs (3.2kg)
HP: 55
Attack: 40
Defence: 85
Speed: 40
Sp. Attack: 80
Sp. Defence 105
I Bloody love Pokemon. I like the idea that in a parallel universe there is a world where there is only pokemon and in another pokemon and humans live together and look out for each other. The people in the joint universe are so luck. I'd love to have a Charmander.Imagine it.
Teacher: Where's your homework Saskia?
Me: *Points at Charmander* It was Him
Charmander: *Looks sad*
Me: It wasn't his fault really. He had an extremely serious case
of hiccups.
Did you know there's 649 pokemon. That's a lot right. I have two pokemon games. One is pretty retro the other is newer but still not the best. "Pokemon red rescue team" for Gameboy and "Pokemon White" for DS. nothing special but still . Pokemon is pretty awesome.
I'm off to go get some food. I haven't eaten all day. I'm starving here guys. It's not good for me to not eat.
Lots of Pokemon,
Saskia xx